The GE Superadio Tech Page

This page is designed to give you quick, accurate technical information about the GE Superadio series of radios. I personally own all three basic models, so I can speak a lot about them. I cannot speak definitively about boombox version with casette, but supposedly the core is based on the GE Superadio series.
Since these radios have been discontinued, I propose that the reader might want to try the CCradio-EP, which is a recently introduced radio with performance that I find superior in almost every way. It is available from CCrane.
Basic Design
The Superadio models are all based on a TDA1083 IC, which is one of those "radios on a chip". It contains the circuitry necessary to make a radio - including an audio amplifier. All you really need to add are antennas, IF filters, a volume control, and a speaker and you would have a good - but not excellent radio. GE has added external circuitry to give it a tuned RF stage on AM and FM, 3 IF filters for FM plus a 280 kHz ceramic filter, four IF stages for AM, bass and treble controls, etc. It just goes to show the excellent radios that can actually be made out of these "single chip" radios. There are other ICs available - by far the most common are ones that do not include an audio amplifier, but have integrated FM detection or detection in an external ceramic discriminator. All of these IC's could theoretically be used to create their own "Super Radio" design - but no manufacturers have seen fit to do so.
Data Sheet Links:

The bad news - it appears to be discontinued. The good news - NTE makes an exact replacement, the NTE1624:
It is available from Mouser Electronics. I have ordered them from Mouser, and used them in GE SR's 1 and 3 - they work. Since the 2 is just a minor variation of the 1, I am sure they would work in it as well, I just haven't replaced one in a 2 yet.
Quality Issues
While I am quite impressed with the performance of these models, they are relatively low cost portable radios compared to communications grade receivers. Quality issues plagued the product from the very beginning, reaching the point in the Superadio 3 that returns doomed the product. It is currently out of production, and I would be very suprised to see the product revived as a Superadio 4. I will go into the quality issues with the "3" in more detail on its tech page.
The following photomicrographs show details of circuit board quality issues:
| | |
| --- | --- |
| | |
| Cold Solder Joint | Over Etched PC Board |
There are also numerous component leads that are left too long when clipped, and can short against adjacent traces (these do not show well under the microscope).
For more technical information on your particular model, click on its title headings below.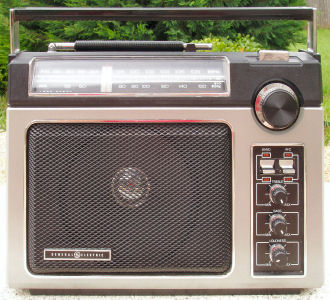 The original GE Superadio, sometimes mistakingly called the GE Superadio 1, was introduced sometime before January 1979 (the date on the manual), which indicates that the design is at least 30 years old. There have been two versions - one without external antenna connections and one with external antenna connections.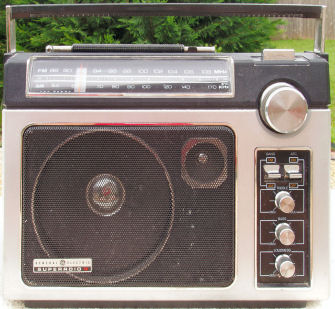 Differences Between the Superadio and the Superadio 2
The GE Superadio 1 and 2 are very similar, but several changes were made:
The most noticable difference between the Superradio 1 and 2 is the addition of a tweeter for high frequency sound reproduction.
The circuit board were re-layed out to accomodate orthogonal component placement. This made the main board larger by about 3/4 inch horizontally on the left.
There are a number of component value changes between the two.
The tuning capacitor in the 2 is smaller.
The speaker grille is changed.
The knobs were changed to an all silver finish.
There were several minor revisions made during production of the GE SR-2, mostly affecting the case.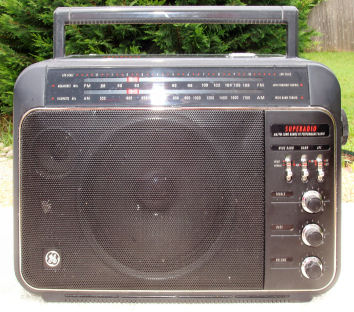 Differences Between the Superadio 2 and the Superadio 3
The Superadio 3 was a major redesign of the product. Changes include:
There has been a complete mechanical re-design of the radio. Some people, myself included, think the new housing is more flimsy.
The tuning knob has been moved from the front of the radio to the right hand side.
All circuitry is now contained on a single PC board.
A change from a mechanical tuning capacitor to varactor diode tuning. This necessitated the inclusion of an internal DC-DC converter to raise the 9V battery / internal AC adapter voltage to the level required by the varactor diodes. This internal DC-DC converter operates at 3.5 MHz and provides a regulated 15V output, which is limited by two internal scaling potentiometers. It has been discontinued, and no replacement is available.
The inclusion of a bandwidth switch on the AM. This allows the AM bandwidth to be switched from narrow mode (equivalent to the AM audio of the "1" and "2") to a wide mode that extends the frequency response well beyond 10 kHz. The method GE used to increase the bandwidth is bizarre - there are transistor switches throughout the AM section that decrease the Q of each stage by introducing parallel or series resistance. I would have personally designed it differently, directing the IF through a single, inexpensive ceramic filter as is done in a myriad of cheap new radios (which are consequently wideband AM by default). That would have greatly reduced the part count, reduced the board space, and increased the reliability.
The audio section has been completed redesigned. It now takes advantage of the differential outputs of the IC which quadruples output power.
A few of the AM / FM RF and IF transformers had to change to accomodate varactor tuning / bandwidth switching.
Make no mistake, the "3" is nothing more than a derivation of the "1" and "2" designs. The schematic shows many common topologies - modified to accomodate the varactors and bandwidth switch on AM - but the circuit architecture of the "3" has otherwise changed very little. The reference designators on the schematic and PC board have changed, but their functions, and sometimes even values are the same as the "2".
The Superadio 3 has gone through one major revision, in which the front end of the FM section has been changed from discrete transistor techniques to a single-in-line integrated circuit. I do not have the schematic of this re-design, but I do own both versions, and have included photographs of both in the SR-3 tech page.
The Superadio 3 has also gone through a transfer of ownership from GE to RCA. All RCA versions contain the new PC board design, while only the last few years of the GE production have the new PC board design.
What the Superadio Series is NOT
As nice as they are, GE Superradios can't be all things to all people.
They do not have FM stereo capability.
They do not have shortwave bands.
They are not easily converted to AM stereo.
The Superadio series of radios are NOT designed to compete with the trendy table radios. These are serious long distance receivers, unlike things like the Bose.
Dial calibration is not particularly good - many people are continually irritated by this, and some return radios because of it. Personally, I'd just make a corrected dial and tape it under the pointer - problem solved. A really clever user could make a new dial graphic for the 1 and 2 - and paste it over the original.
They are NOT particularly good at FM reception - although they do better than most portables. GE Superradios are most highly prized for their AM reception, which is as good or better than a C Crane radio at 1/4 the cost. The C Crane radio is also equalized for speech (talk radio), so you won't be excited by music on one.
Are There Clones?
I have received many inquiries about the Radio Shack Optimus models 12-603 and 12-903. Many people have claimed that they are nothing other than repackaged GE's. This is not true. Both are fine radios, but they are complete redesigns that cost reduce the GE. Consequently, the performance is not as good. I own one, and have analyzed it at the link above.
What About Other Great Radios - Should We Call Them Supers?
Now that the GE / RCA Superadios are out of production, many people are looking for a "replacement". Many radios have been touted as being excellent AM performers:
Radio Shack 12-650
Radio Shack 12-655
Radio Shack 12-603 and 12-903 which I plan to attempt to modify to become equal to a GE/RCA SR-3. They are based on the design, and DO have STABLE tuning pots!
Radio Shack 12-675
Sony SRF-59
C Crane Radios. Except for the new C Crane Radio-EP, they have been of little interest to me, because they are equalized for speech and I am a music fan, not talk radio fan. The EP seems to have a switch for dual equalization (finally!)
Older GE models - some are precursors to the Superadio, but just about any old GE - even without tuned RF - is excellent.
Various general coverage SW receivers, like the Realistic DX300 or the Panasonic RF2200
Redsun PR2100
Tecsun BCL 2000 or 3000
Grudig S350 or S350DL
Various Sony models, some AM/FM, some including SW bands.
Panasonic RF-2200
I own the first three listed above, and some Sony models that are good - not great. But I can't vouch for ones I haven't tried. I have a couple of other non-GE/RCA "superadios".
Things That are NOT Superadios!
Other Sites